If you're getting a door at home replaced, then don't assume the old door you're disposing of has ended its life cycle. Old doors can be re-used in a multitude of ways to make new and interesting additions to the home. Here are ten inspiring ideas that involve repurposing old doors.
Artwork
If you have a creative streak, then exploit it by repurposing an old door into a work of art, which you can either hang on a wall or place against the wall. Take out the glass panels or refashion them into arty pieces, either by painting a picture or attaching photos or favourite images to it.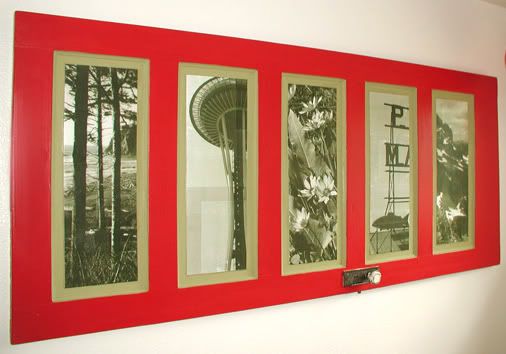 Bed frame
It might take a bit of time and a certain amount of DIY know-how, but you could take once-loved doors to refashion them into a bed frame and headboard. Make sure the doors are of good quality, solid wood, and you'll need strong screws to attach the doors together to form the frame.
Bookshelf
Transform a pre-used door into a unique bookshelf. Paint the door in vibrant colours and attach shelves to it, at intervals. Hang the door to the wall so that it is supported.
Storage chest
If you need extra storage at home then take an old door, cut it into six sections and repurpose it into a handy storage chest. You can use the original hinges. Paint the chest, if desired.
Bedroom mirror
A vintage door can be a really decorative feature, so it would seem such a shame to send it to a salvage yard once it has served a purpose. Instead, make a bedroom mirror feature out of the door.
Room divider
If you need to section off an area of a room at home, then use a few of your old doors and attach them together to make an eye-catching room divider. Feel free to paint the doors or decorate them to complement the rest of the room.
Stool or bench
You can make a handy stool or bench out of an old door. Cut sections from the door and screw them together.
Kitchen table
If you need a new kitchen table, then don't head out to your nearest homes store to buy one. Make one yourself with an old door. It's pretty simple to do. You just need to get some legs and firmly attach them to the underside of the door.
Chalkboard
Refashion an old door into a handy chalkboard using chalkboard paint, so that it can be used to make notes as useful reminders or as a place for the kids to scribble on.
Garden feature
Don't just assume that you need to think of ways to repurpose old doors for use inside the house. They make for great garden features, and you can use them in a number of ways. Whether you use the door to make a seat or outdoor table or, if you fancy a challenge, then consider making an intriguing pergola or archway feature. Attach hooks so that you can hang flowering baskets or allow plants to climb over it.
This article was written by the team at Vivid Doors.